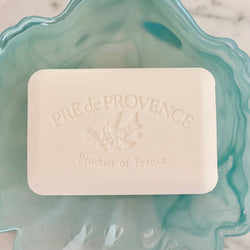 DOVECOTE | Artistry at Home
Milk Artisanal French-Milled Soap by Pre de Provence
Enjoy this luxurious and generously sized bar of creamy Milk soap in one of Pre de Provence's most popular formulations! Ideal for sensitive, winter skin, this bar features a delicate white floral with creamy milk notes. Indulge in its silky, skin calming properties every time you shower, bathe or wash your hands this winter! Your skin will thank you! 
Each generous bar of shea butter-enriched soap allows you to enjoy the quality and craftsmanship of French quad-milled soaps ...smooth, richly lathering and long-lasting bars, without impurities. Treat yourself to the vitality and calming properties they impart! 
Quad-milled for ultra-rich lather
Enriched with shea butter and pure vegetable oils for superior moisturizing
Individually wrapped 8.8 ounce bars
Each bar measures a generous 4" x 2.75" x 1"
No Animal Testing 
No GMO's
No Mineral Oil or Petrochemicals
No Phthalates, Shellac or Plasticizers
No Micronized Titanium Dioxide
No Lead
No Parabens, Ethyl Alcohol, Phenoxyethanol, DEA, BPA/Phthalates
Made in France.
The unique vintage plates we love to use as soap dishes can be found on our vintage page!